Cleveland Traffic Lawyer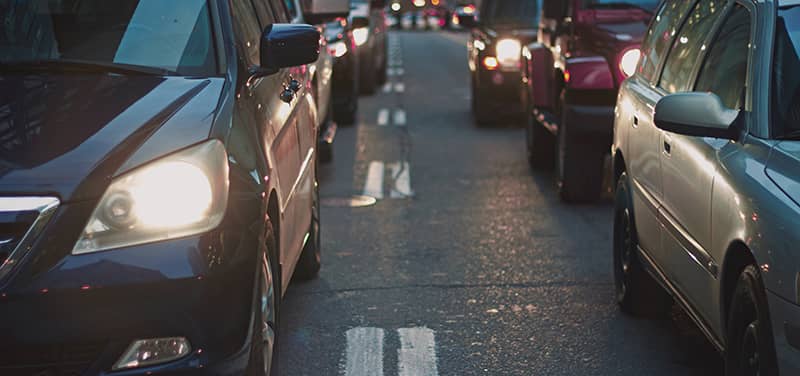 In Ohio, there were over 3 million tickets issued over a five-year period for traffic violations. These infractions are categorized as either moving or non-moving traffic violations. Most minor traffic violations result in a ticket, a fine, and fees. No points are assessed on your license. However, a major traffic violation can result in up to 6 points on your license, license suspension, license revocation, serious fines, and even jail time. It can also cause your insurance rates to skyrocket. For these reasons, it is important to call a Cleveland traffic lawyer as soon as possible after receiving a moving violation so you can get guidance about your available options, what your next steps are, your rights can be preserved, your innocence proven, or a deal negotiated.
WHAT IS THE "POINTS" SYSTEM?
In most states, when you are convicted of a moving traffic violation, "points" will be assessed on your license. Different types of moving violations result in a different number of points being assessed, according to the rules of the state in which the ticket is received. Generally, the more significant the violation, the more points you will get on your license. For instance, in Ohio, two points will go on your license if you are convicted of speeding more than 5 mph above in an area that has a speed limit under 55 mph. The impact of a two-point violation should not be minimized; a series of two-point violations can lead to license revocation. On the other hand, you will get six points on your license (plus other serious consequences) in Ohio for driving while under the influence of alcohol or drugs. If you get 12 points or more on your license during a two-year period, your license will be suspended for six months. After the six-month suspension, you will be required to complete a remedial driving course and pass a road test in order to get your license back.
A Cleveland traffic lawyer offers your best chance of having your ticket dismissed or pled down to a lower-point or no-point violation, thereby potentially saving your driver's license.
The Ohio Motor Vehicle Bureau (MVB) keeps track of the points on your license.
Information about traffic violations, points, and collisions is included on every driver's MVR (Motor Vehicle Report). Auto insurance companies access your MVR to determine how much your annual insurance premium will be.
WILL MY INSURANCE RATE GO UP IF I AM CONVICTED OF A MOVING VIOLATION?
The short answer is — probably.
Insurance companies have access to every driver's Motor Vehicle Report (MVR), which includes information about traffic violations, points, and collisions. The insurance company will look at a variety of factors in determining your insurance premium, including your prior driving record, whether this ticket is your first traffic offense, the length of time between moving violations, your age, and the type of vehicle you are driving.
If an insurance company determines that you are at greater risk of getting into an accident based on these factors, your premium will go up. If your driving record is particularly bad, they may refuse to renew your policy or insure you at all.
If you are unable to obtain car insurance in the regular insurance marketplace, you will need to contact the Ohio Automobile Insurance Plan (OAIP). OAIP offers car insurance to drivers who are considered high-risk. The rates for insurance in this group are the highest in the state. The OAIP is considered a last resort for drivers who are unable to obtain car insurance through the regular marketplace.
WHAT SHOULD I DO IF MY OHIO DRIVER'S LICENSE IS SUSPENDED OR IN DANGER OF BEING SUSPENDED?
Determine the reason for your license suspension, because that will dictate the steps you must go through to have your license reinstated. Information about your license suspension can be obtained through the Ohio BMV website. Often, a notice will be mailed to you from the BMV with important information about the suspension.
Contact a Cleveland traffic lawyer right away.
Failure to adhere to various court procedures and missed hearing deadlines will limit your legal remedies and potentially prevent you from having your license suspension reversed. A local lawyer who specializes in traffic law will be able to explain your options, and give you the best chance at defending yourself and possibly reinstating your license or not having it suspended at all.
WHAT HAPPENS IF I AM STOPPED WHILE DRIVING WITH A SUSPENDED LICENSE?
If you drive while your license is suspended and you are stopped, you face potentially very serious consequences, such as:
Your car may be taken away
Your car may be immobilized with a boot, preventing you from using it
You may be charged with a first-degree misdemeanor
You can face jail time
You may be sentenced to several hundred hours of community service
You will definitely have to pay a significant fine
There are serious consequences associated with traffic violations. Even "minor" two-point traffic tickets can add up quickly and result in the loss of your license and a higher insurance rate.
FREQUENTLY ASKED QUESTIONS
Is it worth getting a traffic ticket lawyer?
Many times people will think that they will be better off financially if they were to just pay their traffic ticket instead of hiring an attorney to help. This is not always the best decision. Paying your ticket is an admission of guilt – meaning that your insurance rates will likely increase which will almost always end up costing you more money in the long run. Not to mention the fact that a blemish on your driving record could impact job prospects in the future.
Will one speeding ticket raise my insurance?
In many cases, a single speeding ticket is enough to see insurance rates increase an average of 25%! On average, drivers with at least one speeding ticket pay almost $400 more per year than those with a clean driving record.
How do I choose a traffic lawyer?
Choosing a traffic lawyer is an important decision. You want to have confidence that they will fight for your rights and that they have the necessary experience. Here are a few questions you can ask a traffic lawyer before deciding to work with them:
What is your honest opinion of my case? What outcome might I expect?
How are your fees assessed?
What experience do you have with situations like mine?
Cleveland, Ohio Traffic Attorney Near You
Facing one or more traffic tickets? Worried that your license might get suspended? If you are unsure of what to do next and need help navigating the Ohio traffic ticket laws, contact The Botnick Law Firm today for a free case evaluation. Your driving privileges are at stake. Call us now to get the help you deserve. An experienced Cleveland traffic lawyer can help get you through this. Contact us today for a FREE consultation.